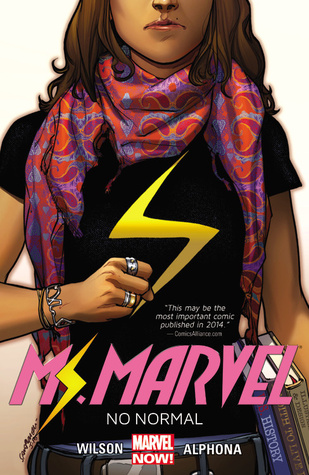 Book Description:
Marvel Comics presents the new Ms. Marvel, the groundbreaking heroine that has become an international sensation!

Kamala Khan is an ordinary girl from Jersey City — until she's suddenly empowered with extraordinary gifts. But who truly is the new Ms. Marvel? Teenager? Muslim? Inhuman? Find out as she takes the Marvel Universe by storm! When Kamala discovers the dangers of her newfound powers, she unlocks a secret behind them, as well. Is Kamala ready to wield these immense new gifts? Or will the weight of the legacy before her be too much to bear? Kamala has no idea, either. But she's comin' for you, New York!

It's history in the making from acclaimed writer G. Willow Wilson (Air, Cairo) and beloved artist Adrian Alphona (RUNAWAYS)! Collecting MS. MARVEL (2014) #1-5 and material from ALL-NEW MARVEL NOW! POINT ONE #1.
G. Willow Wilson's new series Ms. Marvel is one of the hottest comics of the past year, featuring a brand-new heroine in the Marvel Comics lineup. Kamala Khan, the young woman who accidentally gains the power to shapeshift and transform, begins as a relatable high-schooler. She's geeky, charming, friendly, and funny from the beginning, but as the series goes on, she also becomes surprisingly charismatic. She's creative in using her powers, she's honest with herself and others, and she always searches for the right thing to do -- not the easiest or the least-bad thing. Most intriguingly for a superhero, she also searches for ways to resolve problems without using violence.
The writing is excellent, plus i
t's
worth taking the time to read slowly because of all the little sight gags in each panel. The
plot contains several guest appearances from other Marvel characters like Wolverine and the Inhumans, but you don't need any special knowledge to enjoy this comic -- just jump right in!